INCLUDES 4-NIGHT STAY IN AN EL CAMINO SELECTED CASA PARTICULAR
HAVANA itinerary
Morning: Arrive to José Martí International Airport. Your personal driver will meet you at the airport to transport you and your crew to your home for the next 5 days. Settle in at your casa particular (private homestay) within Havana—Cuba's bustling epicenter best known for its creativity, history and passion.
Afternoon: Enjoy a free afternoon to get to know your new city. Refer to your Havana Travel guide for our top picks of highly curated restaurants, bars and shopping experiences.
Evening: Meet up with your local Cuban host for drinks at this breathtaking spot where you can enjoy ones of Cuba's legendary sunsets. Then, enjoy a family-style meal tucked away in a secret back room of one of our favorite hole-in-the-wall paladares (restaurant operated within a private residence).
Meals Included: None
Experiences included: Private transport from airport, arranged meet up with a local host, dinner reservation, and transportation to/from dinner reservation.
Morning: Get ready for a workout you'll never forget as you make your way to an old-school boxing gym tucked deep into the streets of Havana where you will get to practice your jabs, crosses, and hooks with some of Havan's most reputable boxers.
Afternoon: Have lunch at one of Havana's up and coming restaurants which is working to preserve Cuba's culinary traditions. After lunch, get ready to cruise Havana in style in an old-school convertible—top down, of course. Feast your eyes on Havana's extraordinary color palette and architectural wonders as you marvel at the whimsical cityscape that surrounds you. Feel the wind through your hair and the salt on your skin as you drive along the parameter of the Malecón, the island's picturesque seawall that comes alive at sunset.
Evening: Wander Havana's modern and multi-dimensional Art Factory for a night you will never forget. This multi-purpose space, restored from a formed cooking oil factory, is riddled with different modern cultural experiences in each room. Wander down the winding hallways to discover everything from boundary-pushing art, performance art, bars and live music. Pro tip: Don't leave without trying one of their famously large mojitos! Then, sit down for a bite at the gallery's exclusive restaurant that offers a wide range of multicultural dishes. Finish the night off with VIP access to the venue's dance space and let loose with your travel companions.
Meals Included: Breakfast
Experiences Included: Boxing lesson, convertible tour, private transportation to art factory, and lunch + dinner reservations.
Morning: An exciting and inspiring creative tour of Havana is on the agenda this morning. Meet back up with your host and join forces with another one of our passionate friends/expert in the arts who will offer you a deeper insight into the style and aesthetic of the city and its vibrant art scene.
Afternoon: Take the afternoon to explore the city and engage in meaningful interactions with the Cuban people. Refer to your highly curated Havana Travel Guide (or ask your new friend!) for our top recommendations for must-see shopping, bars and restaurants.
Evening: Dinner reservations have been made for you at one of our most highly recommended restaurants on the island.
Experiences Included: Creative tour, dinner reservation, and private transportation to/from dinner reservation.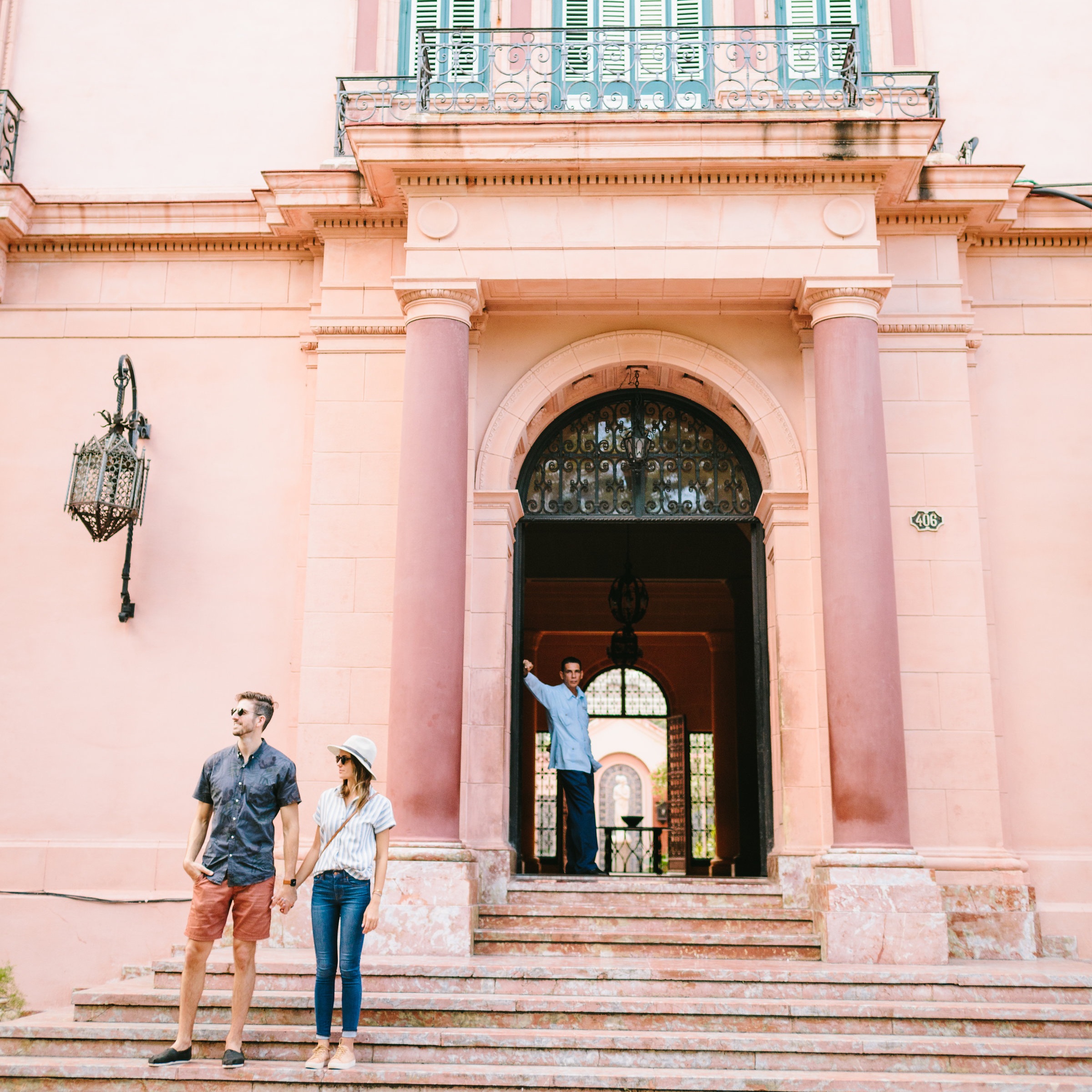 Morning: Cuba is internationally renowned for its unique style of salsa dancing. There's nothing like a morning Salsa lesson to get your blood pumpin' as you get acquainted with the local flavor. Get your feet stepping to an eight-count rhythm that will have you fearlessly stepping out on the dance floor to dance Salsa with the Cubanos in no time.

Afternoon: Enjoy lunch at another Cuban hotspot and take part in this up and coming establishment whose culinary prowess is currently landing itself on the map. Then, meet up with your local host for a walking tour through Old Habana to gain deeper insight into the everyday lives of Cubans. What is it like to live under a socialist regime? What does it mean to have a ration card? How did the country and different generations react when Fidel died? Discover the answers to all these questions and more.
Evening: Celebrate time well spent with your friends at a memorable dinner venue along the waterfront. After dinner, step and twirl alongside some of Havana's most talented dancers as you test out your new moves and maybe even learn some new ones.

Meals Included: Breakfast
Experiences Included: Private salsa lesson, intimate guided tour of Havana, lunch reservation + dinner reservation with private transport.
Depart: From Havana International Airport at any time. Return home inspired by the nation's dogged perseverance and infectious spirit that resounds proudly across the island.
Meals Included: Breakfast
Experiences Included: Private transportation to airport.
This trip is for the traveler who has an adventurous spirit, is looking to squeeze the most out of their time in Cuba, and cares about making the world a better place through responsible travel. The trip is filled with experiences that allow you to be immersed in the varied cultures of Cuba. This traveler is open minded, inherently curious, and enjoys indulging in the moment. This trip is for the traveler who finds joy in stepping outside of their comfort zone, loves trying new things, and is excited to explore a culture completely different from their own. While El Camino Travel provides a high level of customer service, our traveler is someone who is easy-going and amenable to change in the diverse and unpredictable landscape of travel in Latin America.
Our adventurous style of group travel is not for everyone. Please read carefully through the itinerary and the above description to ensure that you are booking a trip that fits your comfort level.
Travel to Cuba is legal, but complicated as tourism is still strictly prohibited. To comply with US law governing travel to Cuba, you must do two things— (1) Have a full-time schedule of activities that are deemed to be in support of the Cuban people by standard set by the US government; and (2) Retain travel records for five years. We work with all our partners to manage this process for you and we ensure that your final itinerary is compliant with US law under the "Support for the Cuban People" permitted reason for travel. We will also retain records on your behalf. If you want to learn more please check out the Frequently Asked Questions (FAQ) document regularly updated by the US Treasury Department. Here is a link to the latest, updated as of November 8th, 2017. We have also published a blog post outlining travel using Support for the Cuban People and what this process entails.
It is now super easy to get to Cuba from major cities in the United States. United, American, Jet Blue, Alaska, Delta, Frontier, Southwest, and Spirit Airlines all have commercial flights from the USA. Once booked, your airline will work with you arrange your visa.
Have questions about flights + visas? Once booked, we can help you answer any questions you may have while booking. We are familiar with the various commercial flights now flying to Havana and their procedures and will be able to walk you through the process.
Accommodations will be customized according to the travelers preference. The pricing of $2,600 per person includes accommodation at a three star casa particular (locally-run homestay) that has been vetted by our team. We have additional accommodation suggestions for those that want to be upgraded to four-star or who may be traveling in a group and would rather rent a private house for an additional price. Whatever your budget and preference, we promise we chose these locations because we love them with all our heart and soul and because they pass the El Camino standard of customer service with flying colors.
We seek more boutique and unique accommodations with plenty of charm and character, ones that provide a worthwhile experience. Most importantly, these places stay true to our ethos of local immersion. Please do not expect the comforts of a Four Seasons, Hilton, Marriot, or other large corporate and standard hotels. We assure you that your accommodations will be clean, safe, and well-maintained.
The trip starts at $2,600 per person (minimum of two people), but can change slightly (both increase and decrease) depending on the number in the group and accommodations selected. To get an exact quote please start by filling out this form and someone from our team will get back to you within 24 business hours. A deposit of 40% per person is due at the time of booking. Final payment for private trips are due no later than 60 days prior to departure.
Payments must be made by credit card or PayPal. Please read our FAQ for more information and our BOOKING TERMS AND CONDITIONS.
A non-refundable deposit of 40% of the trip cost is required at time of booking to secure your trip. Full payment is required 60 days before departure date.
If you decide to cancel your trip, the following fees apply and are due when we receive notice of your cancellation:
61+ days prior to departure: 40% of the total trip cost is non-refundable
31 to 60 days prior to departure: 50% of the total trip cost is non-refundable
0 to 30 days prior to departure: 100% of the trip cost is non-refundable
We strongly recommend you purchase comprehensive travel insurance at the time of booking, that includes cancellation coverage so you are protected financially in case anything comes up that prevents you from joining your trip.