WHAT WE GOT PLANNED FOR YOU in nicaragua
full itinerary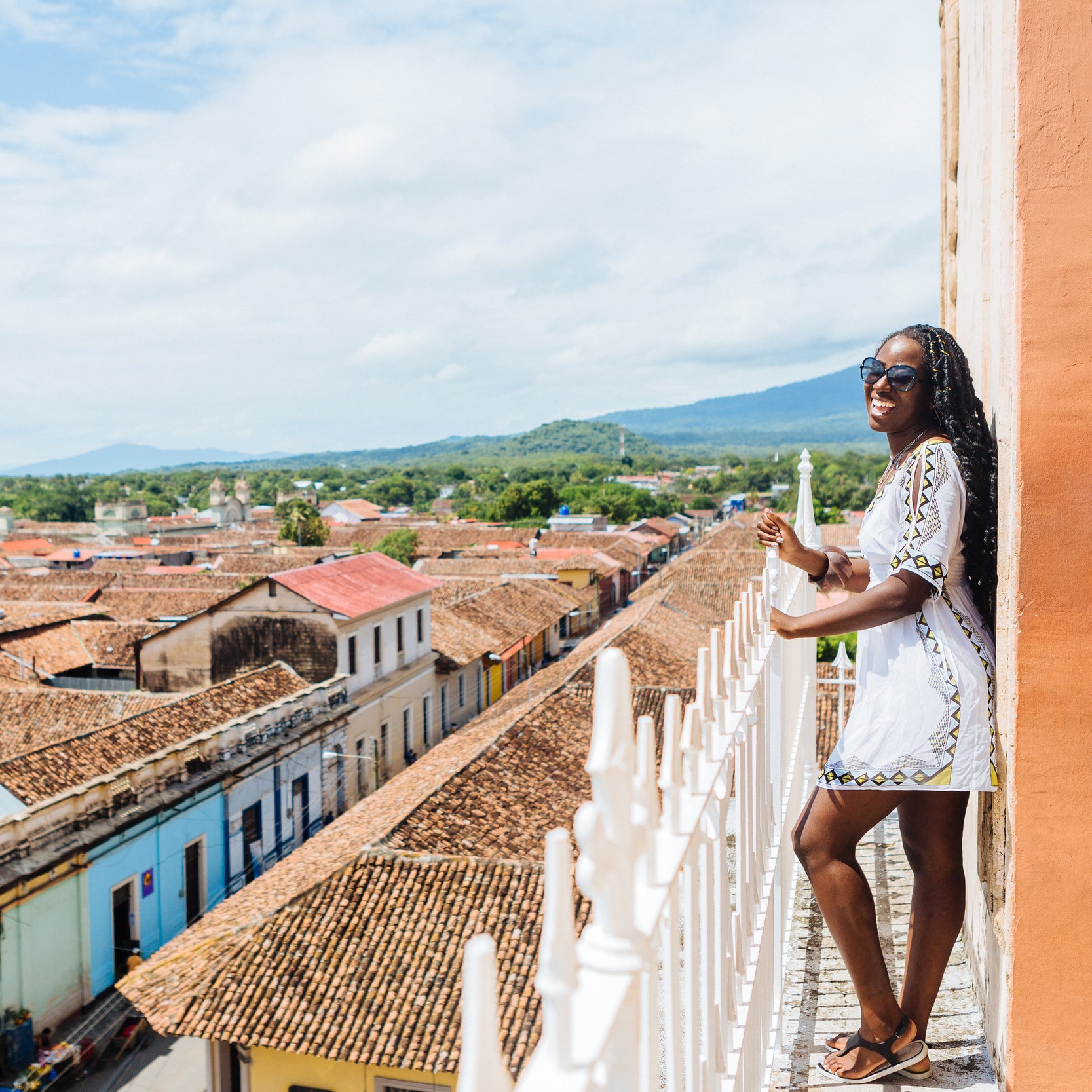 Morning: Arrive by plane to Nicaragua's capital, Managua, and be whisked away to stunning Granada (a.k.a. La Gran Sultana—an homage to it's Andalusian design and architecture). The colonial buildings found here have stood for centuries (literally!). Granada was the first city to be recorded by Spain and as it's well-deserved nickname—La Gran Sultana—suggests; it's like Seville, but, you know...TROPICAL.
Afternoon: Settle in to your stylish accommodations that were designed by the internationally recognized and award-winning hoteliers of Tribal Hotel. We've booked out the hotel and a newly designed private home and can't wait to share this stunning oasis with you. If the scenery entering the city doesn't make you want to go to drop everything and pursue a career in architecture, the stunning boutique homes that we'll call home for the next 5 days will. Take a break from your busy lifestyle back home and try this on for size: take a dip in the pool, get to know your fellow travelers and gaze upon the interesting design of the hotel.
Evening Enjoy an intimate dinner at one of our favorite local restaurants featuring a wide assortment of fresh, local ingredients. Consider this celebratory dinner your official welcome to Nicaragua as you get your first taste of the unforgettable cuisine of the region while knocking back some drinks and engaging in invigorating conversations with your new friends.
Meals Included: Dinner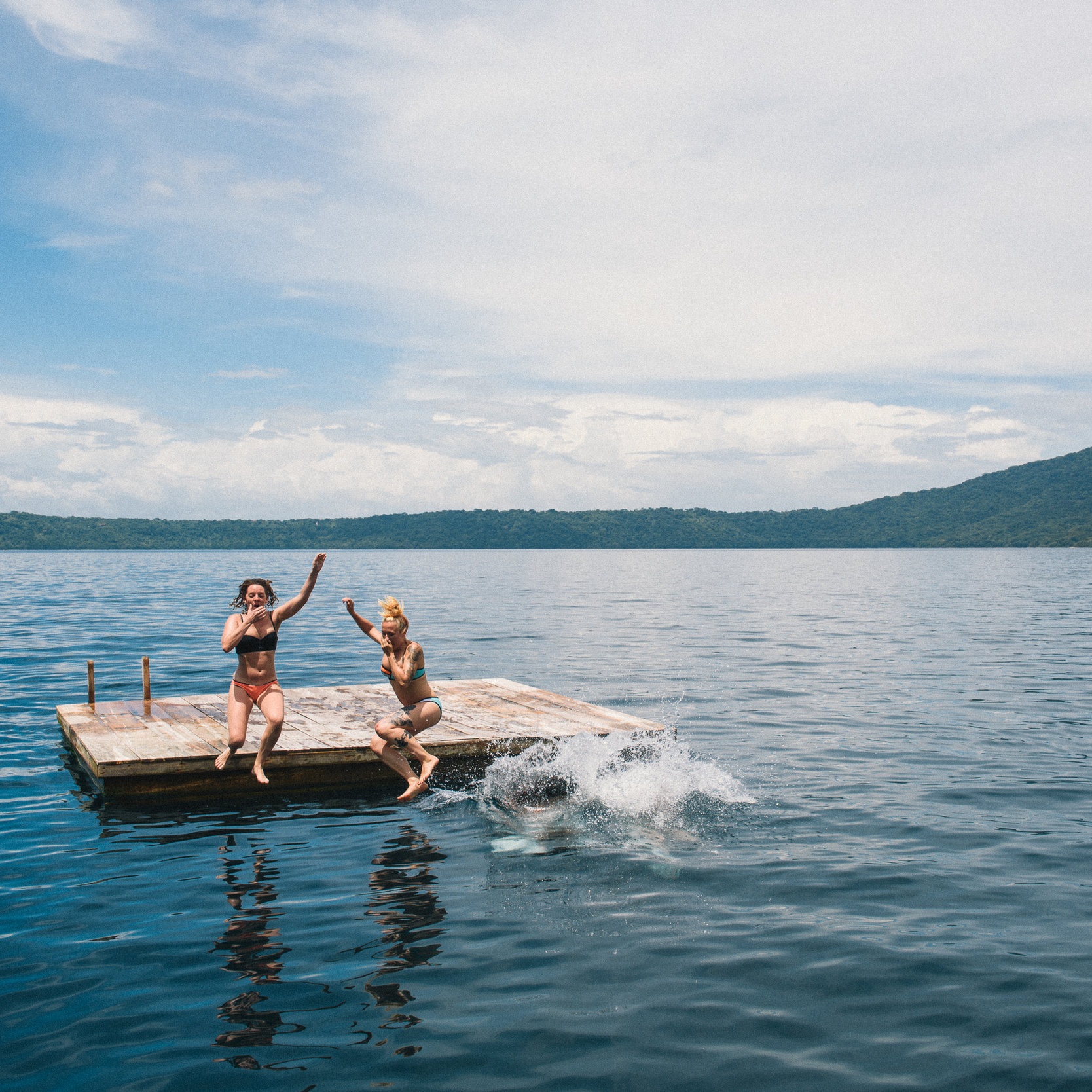 Morning: We'll let you sleep in after that memorable first night (you're welcome) and embark on a walking tour of Granada in the late morning light. If you are an early riser, the pool will be calling your name. There's much to discover on our tour of this historic city—such as a visit to an interesting tile factory and stopping in at our friend's hammock shop with employs disabled youth, enabling their independence—so grab your comfiest walking shoes and get ready to fall in love.
Afternoon: Take a dip in Laguna de Apoyo, an azure, volcanically-heated lagoon. The water will be warm, and surrounded by… well, practically nothing, except for the rolling green hills and open blue sky. Grab a kayak, drift around the tepid waters or sunbathe on a dock in the middle of the water. Head back to shore for a cold beer at one of four restaurants along the shoreline.
Evening: Enjoy your first free evening however your heart desires. Tap your city guide—lovingly prepared by yours truly—for our favorite places to dine, dance, sip and relax.
Meals Included: Breakfast
Morning: Discover why the Nicaraguan Pacific coastline is called the Emerald Coast as we travel to San Juan del Sur via catamaran. We'll sail north to secluded beaches, peaceful coves perfect for swimming and enjoy some cocktails on the boat. Admire the cliffs, observe the dolphins, sea turtles, birds and even the occasional howler monkey searching for crabs along the shore. Catch a fish off the boat, make some ceviche to accompany our endless supply of guacamole. Could this be heaven?
Afternoon: Return to your private homes in the late afternoon feeling salty, sun-kissed and grateful after a beautiful day on the water. Freshen up for a free evening out on the town, or melt into the pool if you're not quite ready for life on dry land.
Evening: The night is yours to discover. This is your last free evening so let's make the most of it!
Meals Included: Breakfast, Lunch
Morning: Join forces with our southern sisters at UPNicaragua, an organization dedicated to providing opportunities to empower the young women of Nicaragua through science, tech, and math. A portion of what you pay for this trip will go directly to UP to aid their work. By simply signing up for this trip, you will be making a difference in the lives of these Nicaraguan women. We have also arranged a special opportunity for you to put your expertise to good use. We'll break into small groups to brainstorm and troubleshoot some obstacles that this promising business faces. Now's your chance to give back in a meaningful way and we're confident the lessons learned on this day will be mutually beneficial.
Afternoon: While marveling at Granada's vibrant spectrum of colors and style over the last couple days, you'll likely have noticed that Granada sits on Lake Nicaragua, the largest lake in Central America. Today, we head to a private island in the middle of the lake to enjoy an afternoon of sun and fun at an eco-friendly lodge. We'll have the opportunity to make our own adventure on this secluded island, making all of your wildest childhood dreams come true with its mystical treehouses. Enjoy the breathtaking views of the Volcano Mombacho and simply relax as you let the beauty of this place overcome you. It's not everyday that we have the opportunity to embrace a private island completely to ourselves. Let's make the most of it.
Evening: Why is it that all of the best Chinese restaurants are always unexpected and surprising? We're not quite sure either, but we do know that in Nicaragua it is no exception. Dine at this hole in the wall Chinese-owned establishment for a delicious fusion of these two cultures. Their most famous dish? Fritanga— a sampler platter of just about every type of traditional Nicaraguan food you can think of, many of which are rolled and cooked inside banana leaves, and always delicious. It's traditional Nicaraguan with a Chinese twist.
Meals Included: Breakfast, Lunch, Dinner
Morning Enjoy your coffee while dangling your feet in the pool at our accommodations, ignoring your packed bag which is waiting for you in the lobby as your taxi arrives to take you to the airport. Soak up these final moments. You'll be full of thanks and overwhelmed with gratitude for these wonderful 5 days we enjoyed together. Take a moment to align yourself with what waits for you at home.
Meals Included: Breakfast