WHAT WE GOT PLANNED FOR YOU in trinidad and tobago
full itinerary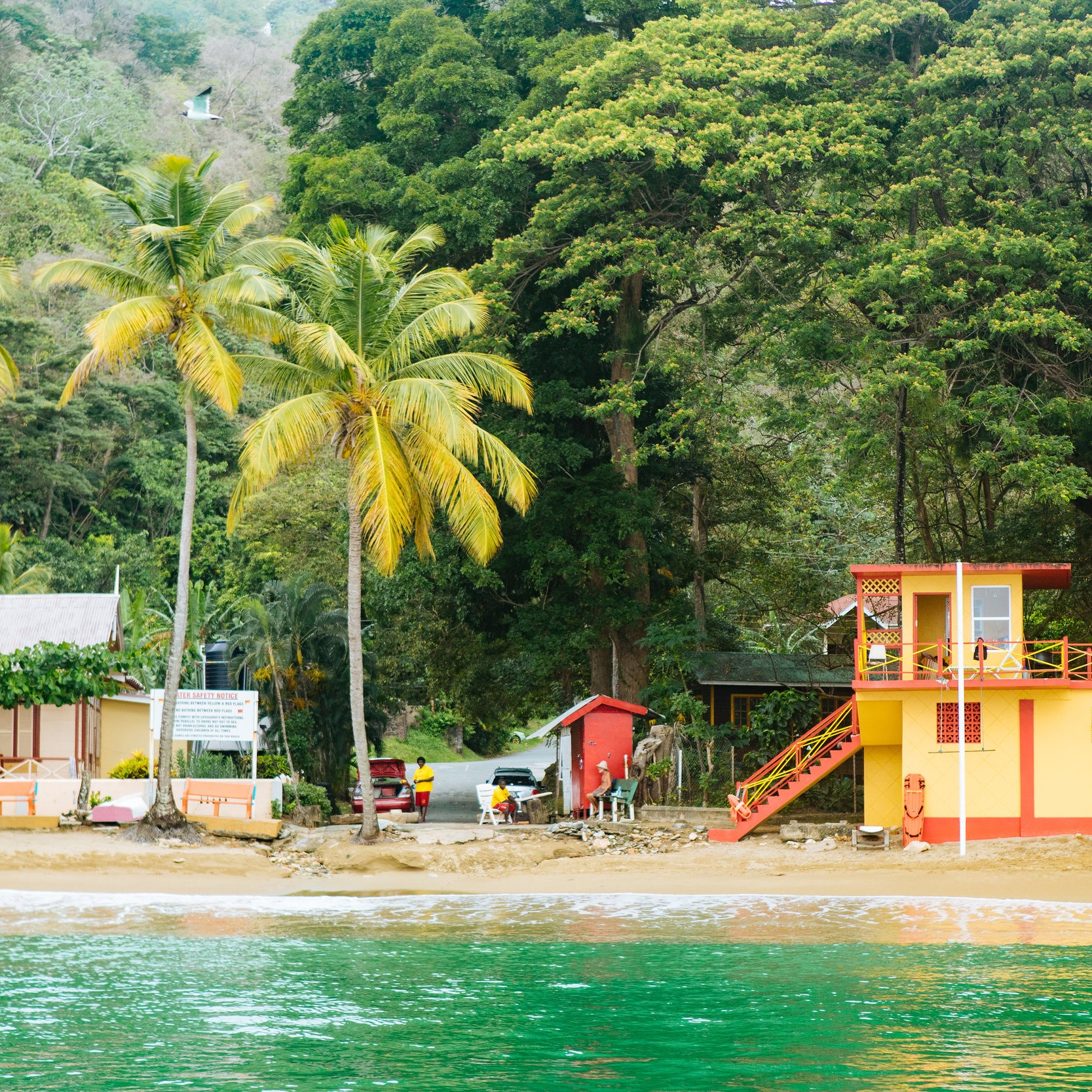 Arrive: To this not-so-far-off land and immediately experience that million-miles-away feeling. We'll be there to greet you at the airport after touching down in Trinidad. Meet up with the rest of the crew before embarking upon the next leg of the journey together
Afternoon: With the crew assembled, we'll climb aboard a 25-minute island hopper flight, landing in Tobago. (Island hopper included in cost of trip).
Evening: We'll arrive at our home base for the next few days: a Carribean eco lodge that will leave you speechless in all the right ways. Soak in the unparalleled views from our lodge that was built into the cliffside, overlooking the small village below and the vast waterscape. Settle in as our hosts prepare a welcome dinner. Get your first taste of this interesting mashup of cultures and how this fusion translates to delicious meal before you. Enjoy a musical treat, delivered by a local steel pan player to finish off an incredible first night.
Meals Included: Dinner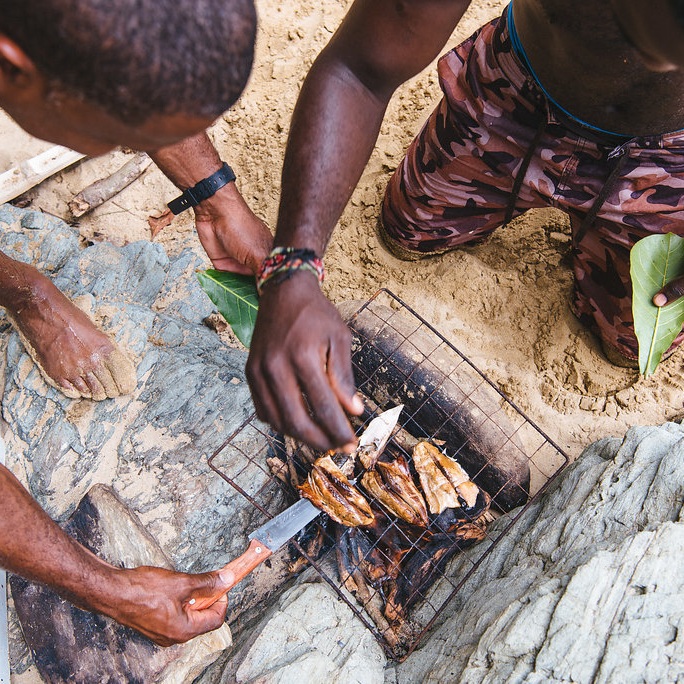 Morning: We'll start off the morning with treetop yoga, providing lofty views of the Carribean Sea as you greet the day. A hearty breakfast will be served at a quaint, local coffee shop, complete with a healthy serving of the island's freshest produce. We'll head down to the beach together a hop aboard our ride for the day: a speed boat ready to whisk us to some coveted snorkeling spots.
Afternoon: Spend the rest of the afternoon visiting remote fishing villages. Don your snorkeling gear and jump into the crystal clear waters for a front row seat to this aquatic wonderland. We'll stop for lunch at ERIC—it's not every day that you get to have lunch at an environmental research institute, but now is your chance. We'll continue our culinary exploration with a traditional lunch, right on the beach, that is inspired by the countrie's East Indian roots and served up on banana leaves.
Evening: Enjoy your first free evening in this tropical wonderland. Make the most of the amenities at the eco lodge, or venture out to explore on your own. We've got some great recommendations for where to dine, unwind or cut loose on the beach at a few different beach bars, plus a late-night bonfire.
Meals Included: Breakfast, Lunch
Morning: We'll welcome the morning as we head back to our favorite coffee shop for breakfast, seeing some familiar faces from around the neighborhood on the way. We've got a fun day in store to be sure to fuel up on the delicious offerings as your shoot the breeze with your new friends from the neighborhood. Head to Nylon Pool and Buccoo Reef for the day.
Afternoon: This is no ordinary pool. Nylon Pool is a sandbar in the middle of the sea. Pull up in style on your brightly painted boat and hop off into the turquoise, waist-deep waters to party with other revelers or go for a snorkel in the nearby reef. This activity marks the first of several once-in-a-lifetime experiences that we have planned. Depart for No Man's Land (yes, really) in the afternoon and enjoy lunch on the uninhabited white sand beaches.
Evening: We'll cruise back home with plenty of time to enjoy our last evening on the island of Tobago. You will have the evening free to go seek out the Tobago's famous curry crab dumplings. Your host with provide you with a few recommendations on where to find some of their favorites.
Meals Included: Breakfast, Lunch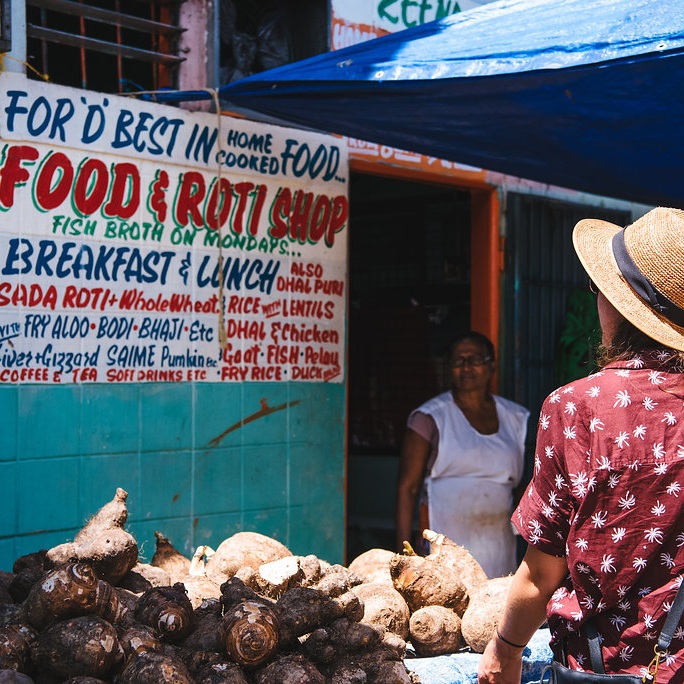 Morning: There's one last breakfast to be had at our morning stomping grounds. We'll head to the airport for the 25-minute flight back to Trinidad (island hopper flight included).
Afternoon: We'll get acquainted with the Trinidadian culture with a tour of a lively local market with our host. MARKET PRO TIP: check out the scorpion pepper sauce (if you dare!) which is known for being one of the spiciest on earth. For lunch we'll get to take part in a tradition of the island, with ties to its East Indian roots. There is much discourse and debate surrounding this tasty snack—it's all fun and games until someone disagrees with your Roti spot of choice! We'll go with our local host to their favorite spot and join the ranks of die hard Trinidadian Roti fans.
Evening: We'll load up for a scenic ride to Mt. Plasier, the setting for the next portion of our adventure. Arrive to Gran Riviere and enjoy dinner at our beachfront hotel and home for the next 2 nights.
Meals Included: Breakfast, Lunch, Dinner
Morning: Take this opportunity to sleep in and enjoy a beautifully prepared breakfast at the hotel. The morning is your to discover as you please.
Afternoon: It would be irresponsible of us not to offer you a free beach day to swim, sunbathe and explore the surrounds. Or if you're feeling more adventurous, grab your hiking shoes and your bug spray and embark into the neighboring jungle. Don't forget to tap your Trinidad and Tobago Travel local host for their favorite nearby trails to hike.
Dinner: Reunite with the crew for dinner as the anticipation and excitement builds for the extraordinary activity which comes next. Now is the moment we've all been waiting for. Most people go their entire lives without bearing witness to something like this and we've planned this trip specifically to coincide with this annual phenomenon. We'll have the best seats in the house to watch hundreds of giant leatherback turtles descend upon the beach to lay their eggs—the very same beach that there were also hatched! Scientists are still unsure as to how these turtles know which beach to come back to.
Meals Included: Breakfast, Lunch Dinner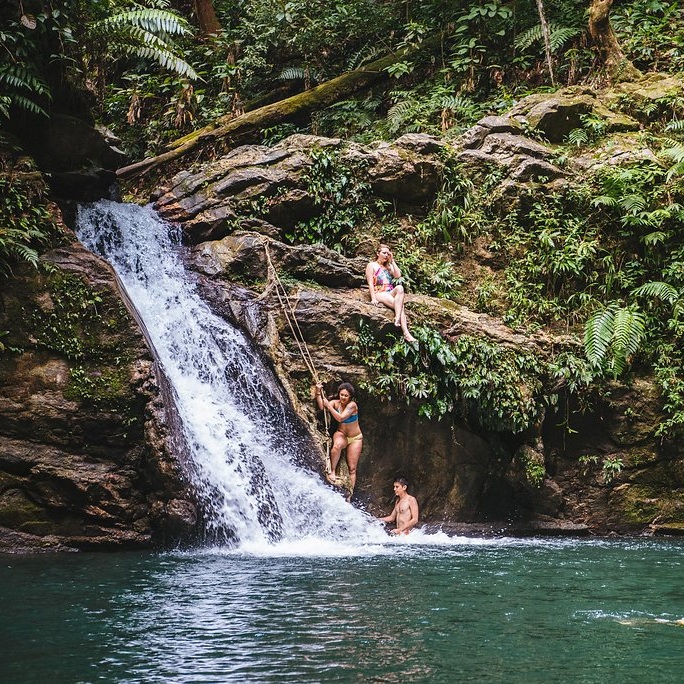 Morning: Catch one last glimpse of the turtles as they return to the water. You'll have to rise with the sun to experience this final show, but it will certainly be worth it. Enjoy one last breakfast at Mt. Plasier Hotel before departing for the next leg of the journey. We're heading to Rio Seco Waterfall for a laid back afternoon in the lush jungle.
Afternoon: Enjoy Rio Seco's emerald green waters which are perfect for swimming. Enjoy the picturesque setting or jump from the falls into the deep plunge pools. The short hike will lead us to this idyllic spot where the cool waters invite you to jump right in.
Evening: Arrive at our hotel for a little taste of city life in Port of Spain. Learn more about the cross cultural fusion of East Indian and Afro-Caribbeans cuisines and discover how to make some local favorites during a cooking class.
Meals Included: Breakfast, Lunch, Dinner (food prepared at cooking class)
Morning: Breakfast will be served at the hotel before we head out for an adventure. Thrill seekers rejoice! Avocat Falls is the destination for the day. With more plunge pools and scenic waterscapes to enjoy, this spot sets itself apart with an exciting opportunity to rappel down the face of these boisterous falls.
Afternoon: Often hallmarked as one of the world's best beaches, though rarely visited by tourists, Maracas Beach looks like something right off of a postcard. Enjoy the white sand beaches as the cerulean waters lap up and kiss the base of the tall, skinny palm trees that come right up to the shore. Enjoy a beachfront lunch on your own time as you basque in the beauty of this magical place.
Evening: This dinner is the one we've been waiting for. We'll head out after dark to this local hot spot to sample everything on offer at Port of Spain's best Street Food Market. Our local guide will point out all the must haves such as the jerk chicken, doubles, corn soup and roti. For our final night we'll finish things off with a bang at a wine class. No, not that kind of wine. Here on the island wine refers to a kind of dance. Get your hips moving (this is the key to a successful evening of wine dancing) and wine your hearts out for one final unforgettable experience together.
Meals Included: Breakfast, Dinner (Street Food Tour)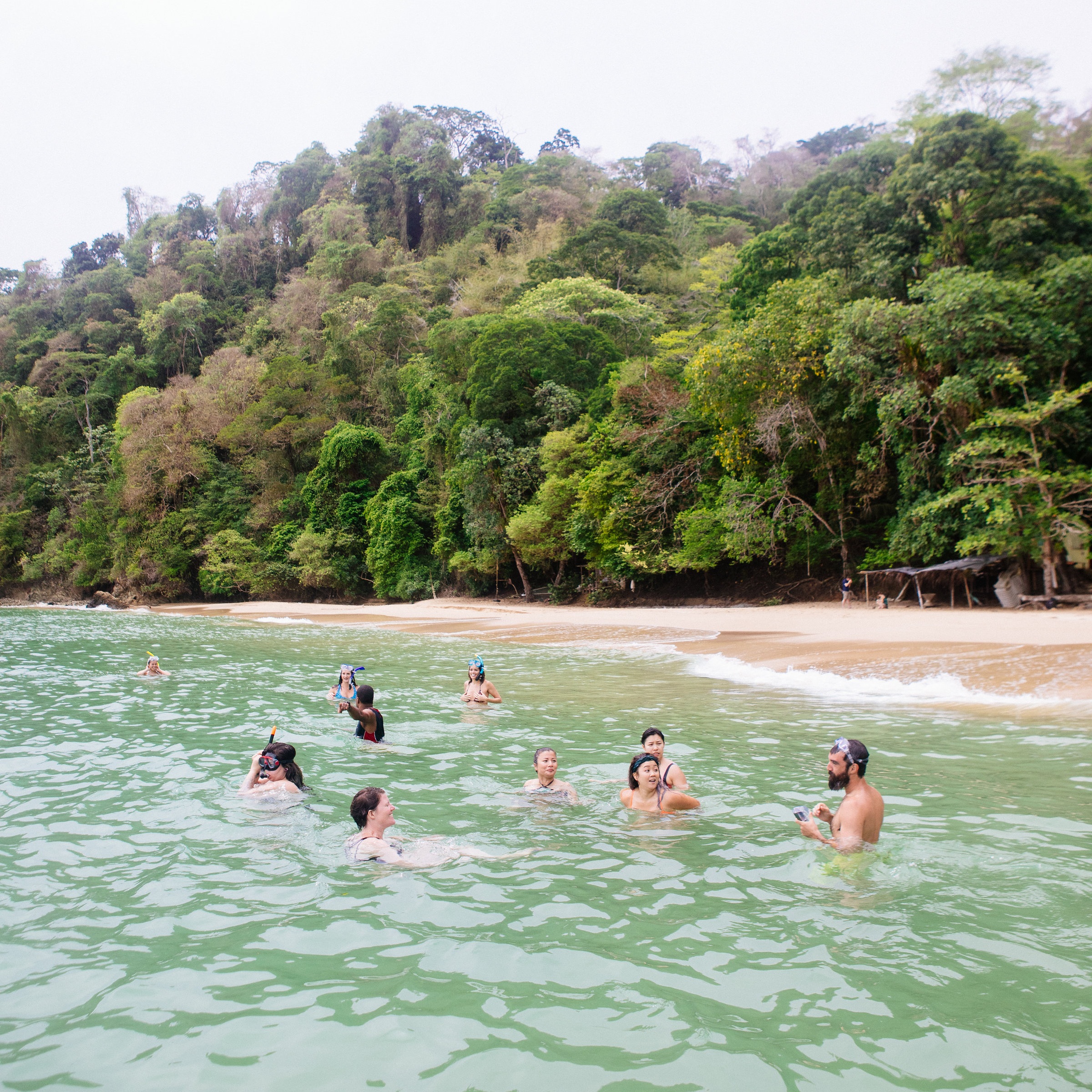 Depart: From Trinidad and Tobago feeling refreshed, inspired and full of a renewed sense of adventure, in awe of the numerous unforgettable experiences conquered on this once-in-a-lifetime trip.
Meals Included: Breakfast